Automatic NCR roll slitter rewinder
Specially design for NCR carbonless paper roll,invoice roll slitting rewinding with max 3 ply.Ideal for NCR/Carbonless roll for 3 ply,2ply,and single ply of thermal roll ATM/POS/FAX/Small Thermal Rolls,bond roll etc Slitting&Rewinding.
Production complete With Paper jumbo roll lift(crane) for easy load the jumbo roll.
Auto Loading of Re-wind paper feeding into the Rewinding station,auto unloading when product is ready from rewinding station.
Imported World class PLC programe Control/Touch Color Screen,Auto control of magnetic powder break system,Automatic tensioner control,It is compact,Steady for performing,Easy for operation,High production speed.
BRIEF TECHNICAL DATA:
Model:PPD-3RW500
Maximum Width : 500 mm
Maximum of ply:3ply
Maximum Mother Reel Dia : 700 mm
Slitting Width (Standard) : Maximum 40-500mm
Maximum Rewind Diameter : 180mm dia.
Rewind Core Diameter : 13,15,22mm - Option
Cutting Speed : 168 M / per minute
Machine Overall Dimension :1600x1500x1600mm
Nett Weight of Machinery : 1.85 M/Ton
Power Voltage : 220/380/415 Voltage / 50&60Hz(Option)
Total Power : 6.2kw (kilowatt)
MACHINE APPLICATION:
Suitable for all product raw materials
NCR Carbonless roll
THERMAL rollBOND PAPER ROLLS ETC.
PAPER PRODUCTS:
NCR roll
Carbonless invoice roll
Thermal Paper Rolls
POS - Electronic Cash Register Rolls
ATM - Bank Rolls
Car parking paper Rolls
Bank Tele printer Rolls
Receipt Ticketing Machine Rolls
ECG Rolls
Medical Report Rolls
Electronic Credit Card Slip Rolls
Car parking paper rolls
Lottery roll
Bond Paper Rolls
All type of small bobbin paper rolls
MACHINE FEATURES:
These range of machines are specially designed with the incorporation of the
best features available from Germany and Japanese Slitting & Rewinding
Production Machine & latest Technologies available
The selected parts and components are basically supplied by leading overseas
manufacturing plants in China
High precision, user friendly, easy operation and maintenance
Auto tension, paper feeding, adjustment & alignment control
Auto control length meter upon complete rewinding
Complete with ink end-roll marking to distance program by meter
Digital Computerized Control Panel Board
for all movement, adjustment and others
Machine comes with Top quality of Rotary Slitting Knives and Slitting Holders
Complete set of essential machine tool kits
English Instruction/Manual Book + VCD on machine set-up & VCD on machine
in production (taken at one converting factory in China)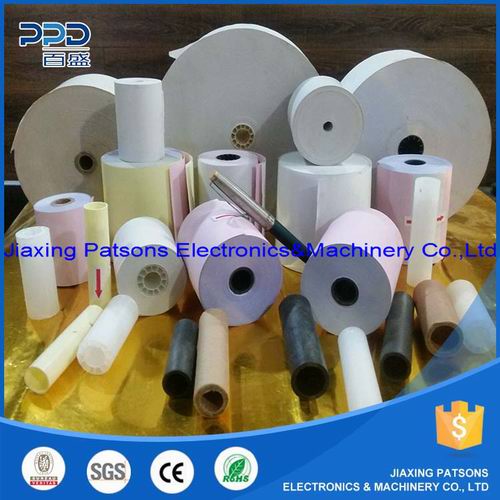 Video Presentation:
If you have any enquiry about quotation or cooperation,please feel free to email us at
eng@ppd-machinery.com
or use the following enquiry form. Our sales representative will contact you within 24 hours. Thank you for your interest in our products.
Subject:

*

Message:

*

Name:

*

Email:

(Please make sure your E-mail address is correct otherwise the recipient will not be able to reply.)
CompanyName:

*

Tel:

(Please make sure your Business Phone is correct otherwise the recipient will not be able to reply.)
Fax:
Address:
Products: